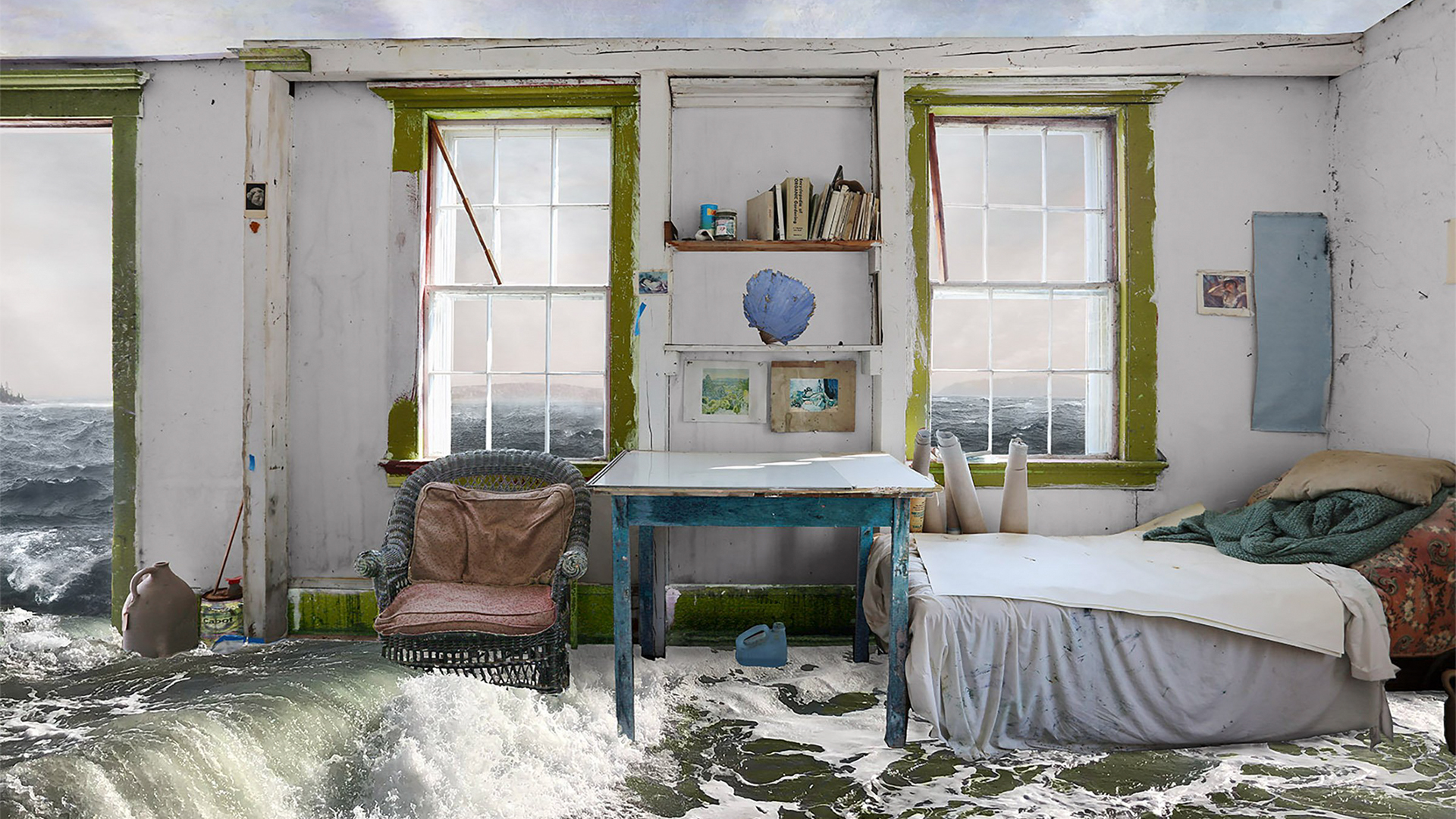 Framing the Domestic Sea: photographs by Jeffery C. Becton
Framing the Domestic Sea: photographs by Jeffery C. Becton
New Bedford Whaling Museum
Wattles Gallery
January 12, 2024 – May 5, 2024
Framing the Domestic Sea: photographs by Jeffery C. Becton presents a new body of work by this celebrated Maine artist. His digital photographic collages are surreal and panoramic in scope. The layered visual images evoke the past, New England's varied histories, the maritime world, and contemporary environmental concerns.
Inspired by the intertidal spaces and atmospheric weather conditions surrounding his home on Deer Isle off the Maine Coast, Becton creates densely layered digital photographs that probe boundaries between dream and reality, interior and exterior, abstraction and representation. His montages frequently contain architectural elements and objects from surrounding antique New England homes; many are part of his personal history. They invite close looking and quiet contemplative study. Their subjects feel familiar and vernacular, but the scale of the prints and their uncanny qualities – they often present ruptures between what we see and what we expect – puncture the quietude and introduce a level of anxiety: about the passage of time, the work of history, and the indomitable forces of the natural world. In this way, Becton's work engages with many of the pressing issues of today, including intergenerational legacies, the inadequacies of and absences within traditional histories, and the widespread impacts of climate change, especially rising sea levels and changing coastlines. As an Islander, Becton is ideally suited to raise such questions and imagine startling outcomes, if we don't turn the tide and change course.
In his photographic dream worlds, Becton captures certain moods via visual effects – fog, rain, optical mirages – to create an in-between world. Domestic spaces merge with the sea; the landscape is encrusted with oceanic materials; places appear simultaneously both timeless – as if they were and always will be there – and under imminent threat of destruction. Scenes in Becton's works feel eternal and, also, fleeting and ephemeral. This makes them deeply fascinating and mesmerizing in turn. There is a sense of the impending in most of Becton's oeuvre, something reaching around the corner – just out of sight, but there -- watching. Intimacy pervades his visual lexicon, yet each work carries a vestige of the uncanny. What is real? How do we hold onto memory, legacies, time, youth, or history? In pieces where the sea reaches the threshold, or invades an interior, the frightening outcomes of rising sea levels and climate change are forcefully made visible. In other works, the crowns of ancient pine forests rise above a sea of mist, hinting at an Atlantis of New England, a place beyond the impact of humankind, a sort of Eden. The destruction of both mythic lands – Atlantic and Eden – lends a sense of foreboding that connects deeply with environmental narratives and maritime concerns. How do we hold on? To a landscape, a history, a culture – in the face of changing cultural values and catastrophic environmental change? This body of work prompts audiences engages such questions via deeply prosaic imagery.
Public programs will carry the conversation forward, engaging audiences in a discussion of maritime history and its legacies today, and the environmental impacts of climate change on coastal communities and environments.
About the Artist: A pioneer in fine-art photography, Becton (b. 1947) received an MFA from the Yale School of Art in 1976. He worked on the mainframe computer at Yale's computer science lab—an experience that primed Becton to welcome the new digital tools in the mid-1980s. By the early 1990s, Becton was experimenting with the layering of visual information, living year-round in Maine, and creating surreal scenarios evocative of that in-between milieu one inhabits when living by the sea. Becton's work has been in numerous solo, group, and juried exhibitions, and highlighted in national and international publications, including the Royal Academy 2022 Summer Exhibition in London. In 2015, Marshall Wilkes (Ellsworth) published a monograph on Becton's work, and in 2016, the Bates College Museum of Art held a solo exhibition of Becton's large-scale monographs that traveled to Tennessee, Florida, and Virginia. Becton's work is in the museum collections of Bates College Museum of Art, Farnsworth Museum of Art, and Portland Museum of Art. Becton lives in Deer Isle, Maine, where he maintains a studio.