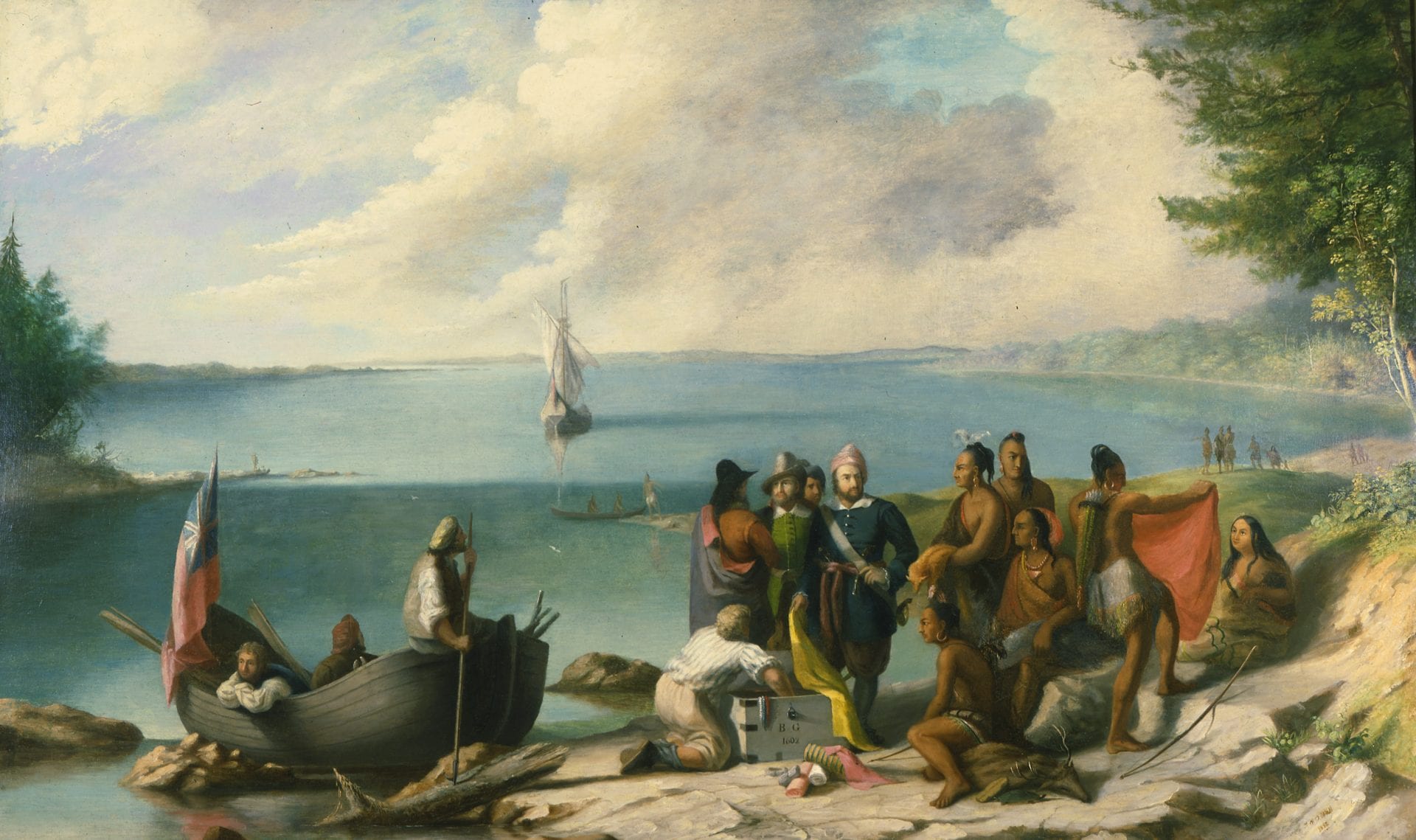 Timeline –1602 to Present
Historical milestones of Old Dartmouth and New Bedford, beginning in 1602.
Timeline: 1602 to Present
1600's
1602
English explorer Bartholomew Gosnold surveys Buzzards Bay.
1620
Arrival of Pilgrims at Plymouth on MAYFLOWER.
1652
Plymouth Colony purchases Dartmouth lands from Massasoit, sachem of the Wampanoag and his son, Wamsutta.
1675-76
King Philip's War.
1699
First Quaker meeting established in Dartmouth.
1700's
1712
Capt. Christopher Hussey of Nantucket finds a pod of sperm whales; pelagic whaling era begins.
1750
Spermaceti oil refining begins at candleworks in New England.
1767
DARTMOUTH, the first large ship built at Bedford Village; her first voyage brings American whale oil to London.
1773
DARTMOUTH's return cargo of British tea is destroyed in the Boston Tea Party.
1778
British troops burn Bedford Village destroying shipping and warehouses.
1780
Capt. Paul Cuffe, African & Native American, petitions for right to vote as a landowner and taxpayer.
1787
New Bedford and Westport establish as separate towns from Dartmouth.
1793
REBECCA returns; first American whaleship with sperm oil from the Pacific.
1794-97
New Bedford shipwright Col. George Claghorn is Naval Constructor of the USS. CONSTITUTION at Hartt's Shipyard, Boston.
1800's
1812
Second war with Great Britain begins; lasts until 1815.
1819
First American whalers reach Hawaii.
1820
Nantucket whaler ESSEX attacked and sunk by a whale.
1821
James Arnold & Joseph Rotch build grand homes on County Street; whaling wealth drives "mansion-mania" on the hill.
1823
New Bedford surpasses Nantucket as the largest whaling port.
1831
Seamen's Bethel built by the New Bedford Port Society (founded in 1830).
1834
Anti-Slavery Society organized with William Rotch, Jr. as President.
1838
Frederick Douglass escapes slavery and settles in New Bedford.
1840
New Bedford & Taunton Rail Road Corp. creates access to inland markets; first daily train service to Boston begins July 1.
1841
Herman Melville sails on the whaleship ACUSHNET.
Jonathan Bourne purchases and converts the LAGODA into a whaling vessel.
CHARLES W. MORGAN built at Hillman Brothers Shipyard, New Bedford; the world's last remaining wooden whaleship today, preserved at Mystic Seaport, Conn.
1843
Manjiro Nakahama, first Japanese person to live in America; lives with Capt. William Whitfield family in Fairhaven and is educated in the local schools.
1845
Frederick Douglass writes "A Narrative" of his life in slavery, which details his escape to New Bedford – his first home in freedom. The book is a national best seller.
1846
Wamsutta Mills, New Bedford's first textile mill incorporates.
1847
New Bedford incorporates as a city.
1848
Russell-Purrington Panorama, "Whaling Voyage Round the World" first exhibited.
African-American Lewis Temple invents a new toggle harpoon.
Gold is discovered in California.
SUPERIOR of Sag Harbor passes the Bering Strait and opens western Arctic fishery.
Abraham Lincoln visits New Bedford; speaks in support of Whig candidate Zachary Taylor; stays with the Grinnell Family on County Street.
1849
Wamsutta Mill in full operation with 10,000 spindles.
Palmer's Island Lighthouse established. William Sherman is its keeper.
1851
Moby-Dick is published (first in London in October as The Whale; in November in New York, as Moby-Dick).
1852
Commodore Perry opens diplomatic relations with Japan.
1853
New Bedford lights streets by gas.
1854
Marine painter Albert van Beest comes to New Bedford to instruct William Bradford.
1857
Peak year of New Bedford whaling fleet; 329 vessels registered out of a total American fleet of 593 vessels.
1858
Painter Albert Bierstadt organizes large art exhibition of works by American and European artists.
1859
Drake's well strikes petroleum in Titusville, Penn.; heralds the plunge in whale oil prices.
1860
Sperm oil is $1.40 a gallon; kerosene is 75¢ a gallon.
1860-70
Norwegian, Svend Foyn introduces steam powered chaser boats & heavy caliber artillery to hunt whales.
1861
New Bedford's "Stone Fleet" attempts blockades of the Confederate harbors of Savannah and Charleston.
1861-65
Confederate commerce raiders destroy 46 Yankee whalers.
1867
Alaska Territory is purchased from Russia; America adds 586,412 sq. miles of new territory for $7.2 million.
1868
Charles Dickens visits New Bedford; reads at Liberty Hall to throngs of admiring fans.
1869
Transcontinental Railroad links coasts; assures San Francisco's rise as a major whaling center.
Clark's Point Lighthouse moved to atop "Fort Taber" at the southernmost tip of the city.
City's public water supply system established.
1870
Mount Washington Glass Works established in New Bedford.
1871
Potomska Mill, New Bedford's second textile mill, established.
Arctic Disaster – 32 vessels lost on the Alaskan coast.
1874
Author and whaling captain Charles M. Scammon warns about whale population extinction.
His Majesty, David Kalakaua, King of the Hawaiian Islands visits New Bedford.
1876
Revenue Cutter Service Marine School of Instruction established at Fish Island aboard the topsail schooner DOBBIN; precursor institution of the United States Coast Guard Academy.
The "Catalpa Expedition" rescues six Irish Fenian prisoners from a British penal colony at Fremantle, Australia. Master of the New Bedford whaleship CATALPA, Capt. Geo. S. Anthony becomes a national celebrity upon his return to America with the freed men.
1880
San Francisco becomes the dominant whaling port in the U.S.
1895
New Bedford Textile School established by an Act of the Commonwealth of Massachusetts. Its mission: to instruct mill operatives in the rapidly evolving technology of textile manufacture. The school is the precursor institution of the University of Massachusetts Dartmouth (UMD).
1898
Joshua Slocum returns in the SPRAY to New Bedford, the first solo-circumnavigator.
Butler Flats Light Station established; designed by Francis Hopkinson Smith.
1900's
1903
Old Dartmouth Historical Society established; operator of the New Bedford Whaling Museum.
1906
Invention of spring steel dooms baleen market.
1910
Norway becomes the leading whaling nation in world.
1916
New Bedford's Hetty Green dies, a.k.a. "The Witch of Wall Street;" astute investor and America's richest woman, leaves $100 million fortune.
1924
WANDERER departs New Bedford on last voyage of square-rigged whaleship, is wrecked off Cuttyhunk.
Col. Edward H. R. "Ned" Green adopts and restores the CHARLES W. MORGAN at his Round Hill estate in South Dartmouth, in partnership with Whaling Enshrined, Inc.
1927
Schooner JOHN R. MANTA makes last New Bedford whaling voyage.
1928
The Great Textile Strike heralds rapid decline of the industry in New England.
1938
New Bedford's first freezing & storage plant opens with the filleting of flounder.
New Bedford and surrounding towns devastated by the Great New England Hurricane.
1941
Charles W. Morgan, last wooden whale ship moved to Mystic, Conn.
1956
John Huston's "Moby Dick" starring Gregory Peck premiers in New Bedford.
1958
Azorean Refugee Act extension renews immigration from Portuguese islands.
First Scallop Festival held on Pope's Island, produced by the New Bedford Seafood Council and New Bedford Exchange Club.
1961
New Bedford Industrial Park established in the city's far North End.
Waterfront Historic Area League (WHALE) established to preserve the architectural past.
1964
Construction of the UMD Dartmouth campus begins; designed by Paul Rudolph.
1966
New Bedford's first Historic District designated.
30 city blocks are razed in massive federal "Urban Renewal" projects, including the construction of the I-195 corridor transecting the city and the Route 18 Downtown Connector.
Hurricane Barrier completed after 4-year construction at a cost of $18.4 million.
1996
New Bedford Whaling National Historical Park established.
2000's
2001
New Bedford Whaling Museum becomes the largest museum of its kind in the world with the acquisition of the collections (70,000+ items) of the Kendall Whaling Museum of Sharon, Mass.
Today
New Bedford is the highest grossing commercial fishing port in America.